Free to keep driving while pregnant
Koala Driving Belt is the seat belt adjuster for pregnancy for those mums who like to maintain their independence while driving or want to travel comfortably in a passenger seat.
It ensures the seat belt is positioned correctly to protect both you and your baby, without causing discomfort to your pregnancy bump.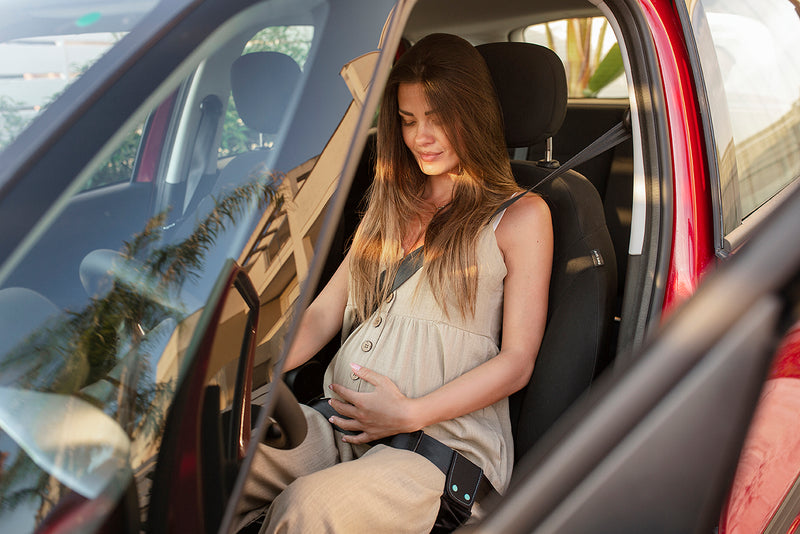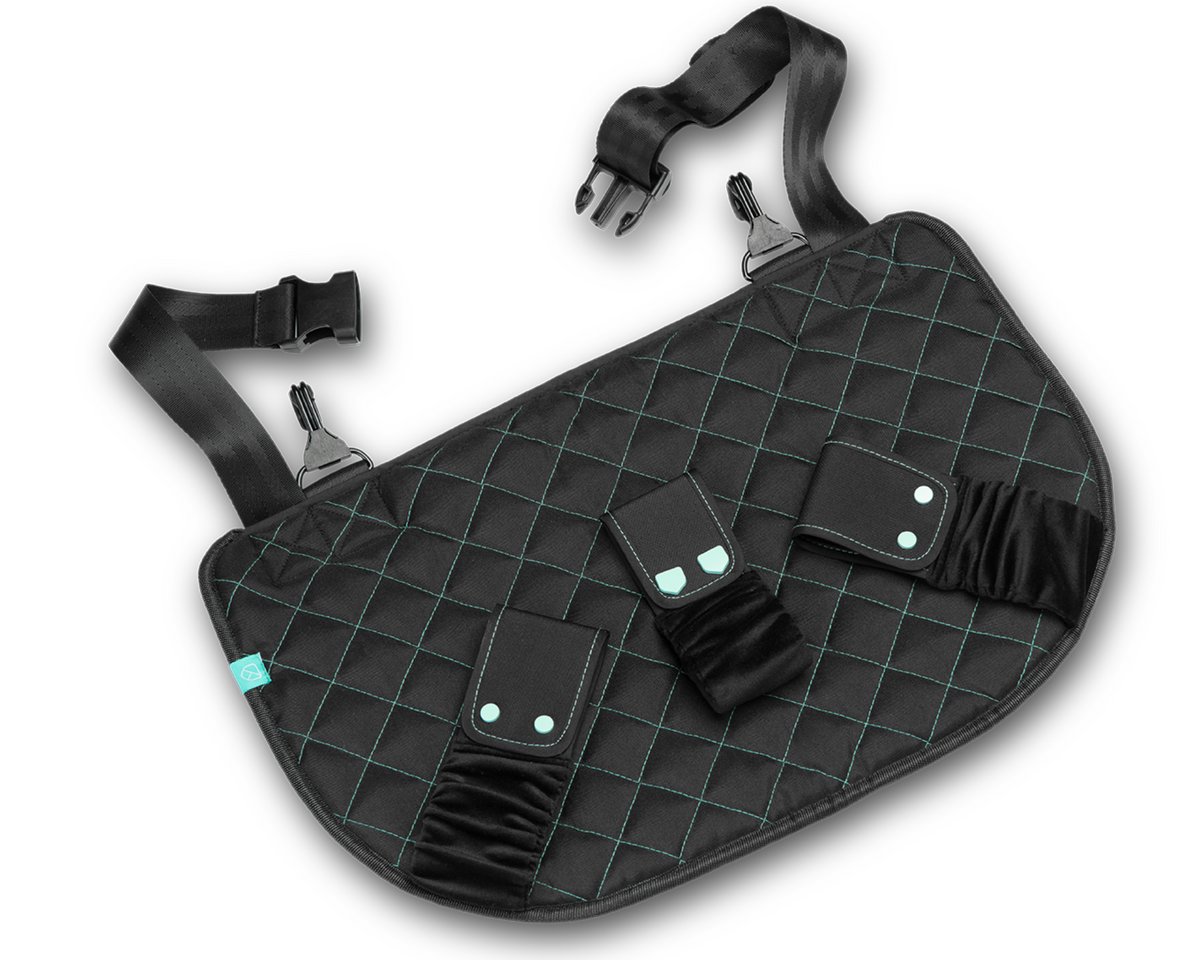 Because it's just what you need
Three features that make Koala Driving Belt special

Compatible with all seats
It can be used in all seats, even in cars with the Isofix system, whether you're driving or just a passenger.

Also comfortable for other passengers
No need to remove it each time another passenger gets into the car: they'll hardly realise it's there!

Maximum comfort guaranteed
Protects both mum and baby in such a natural and comfortable way that you won't notice any difference.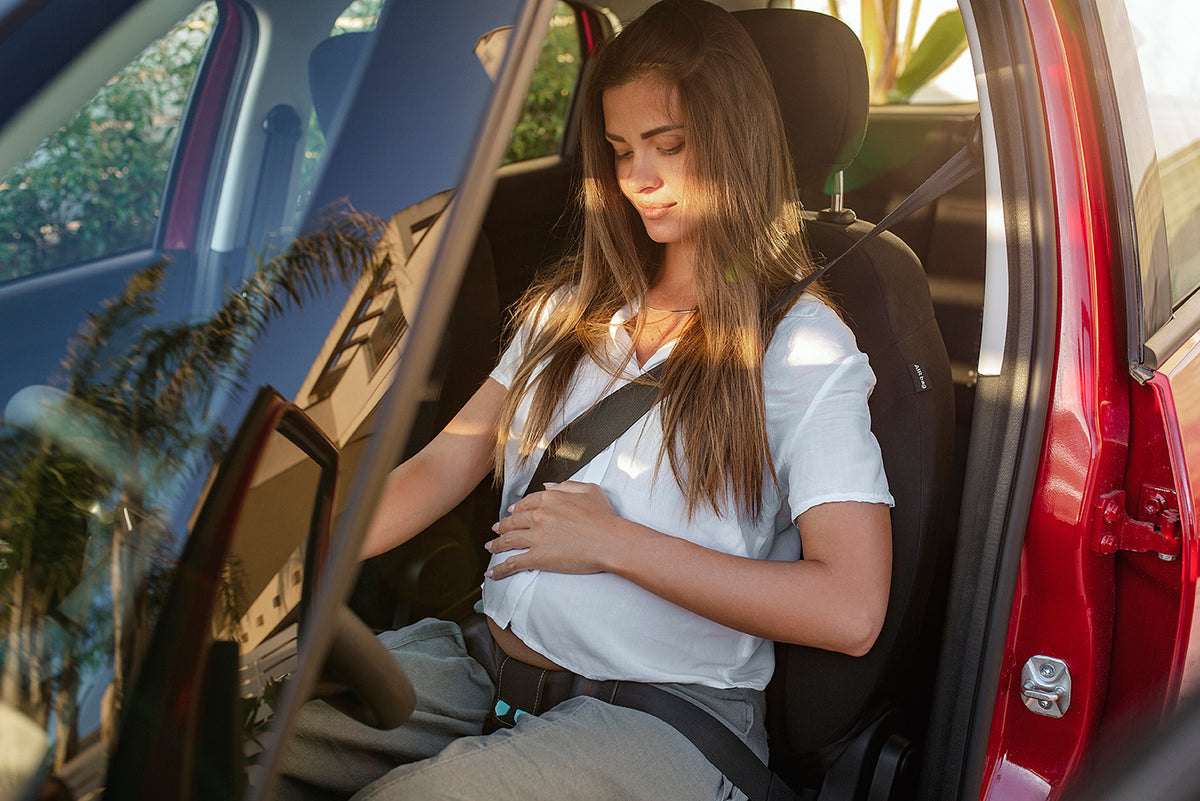 Keep your own style, even when driving
With Koala Driving Belt, you're free to choose your outfit every morning and always feel like yourself. It fits comfortably with either trousers, a skirt, or a dress, thanks to its two different modes of use. Switch from one to the other in less than a second!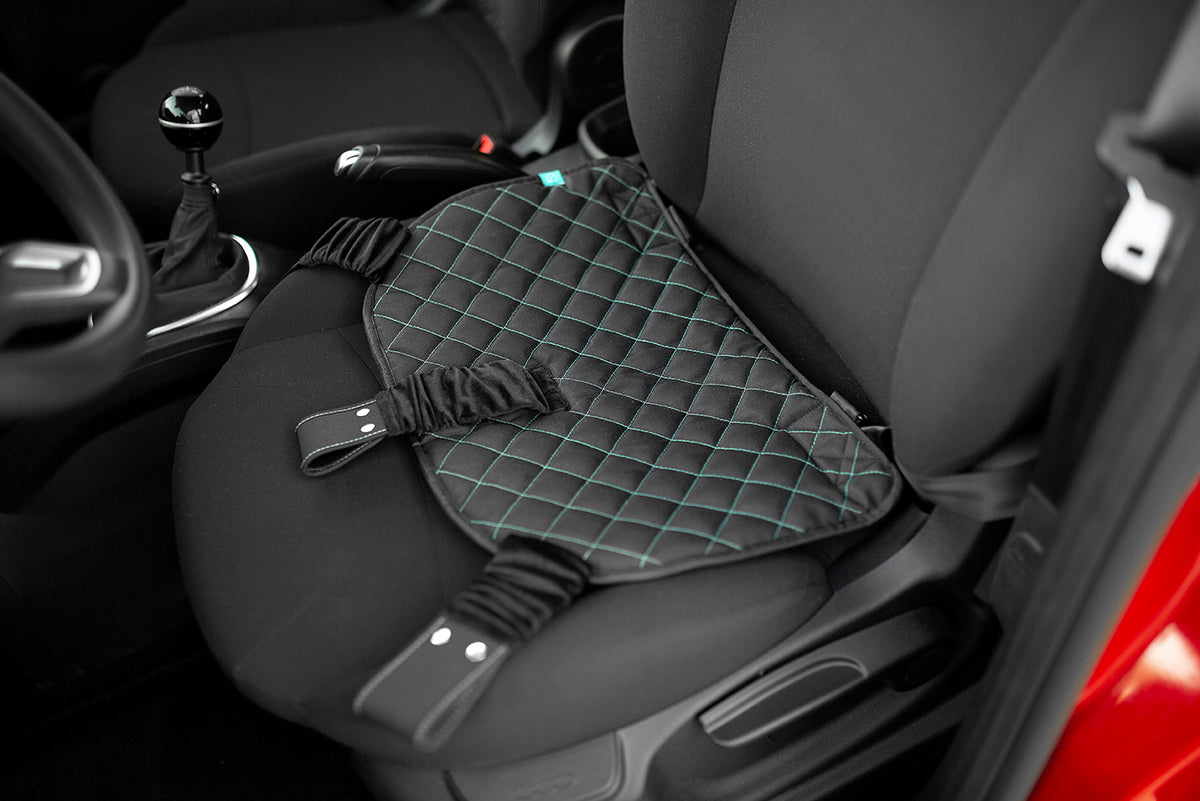 Universal: easy to install on all seats
Koala Driving Belt can be used in any car: it can be easily installed on all seats thanks to its Isofix attachments or the special belt. Switching it from one seat to another takes just a moment, although it's that comfy you can keep it on even when another passenger is using the seat, such as daddy.
The maternity seat belt for you and your baby, for peace of mind while driving
All our products are rigorously tested to guarantee the best quality together with peace of mind.
There are no approved regulatory standards for pregnancy seat belt adjusters.
Nevertheless, we decided to subject Koala Driving Belt to crash testing as per regulation ECE R16, which is responsible for seat belt safety regulations.
The crash test confirmed that Koala Driving Belt does not affect seat belt function in any way.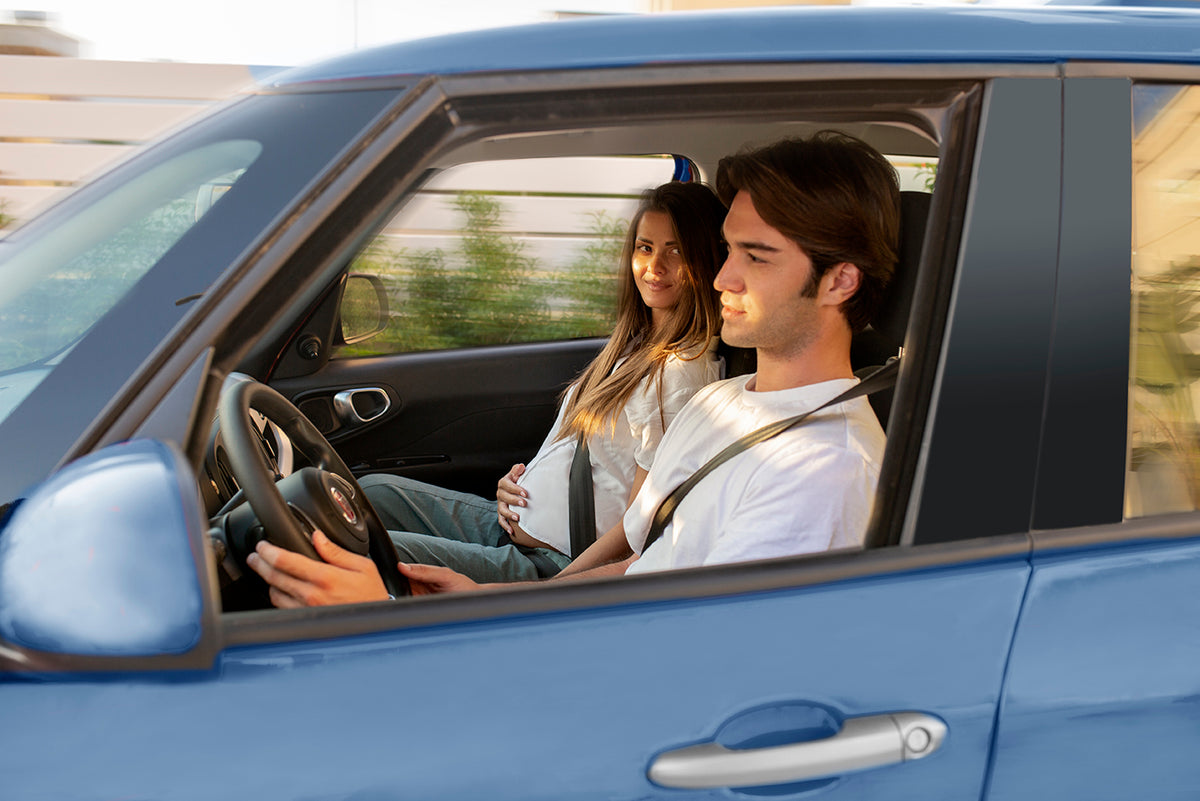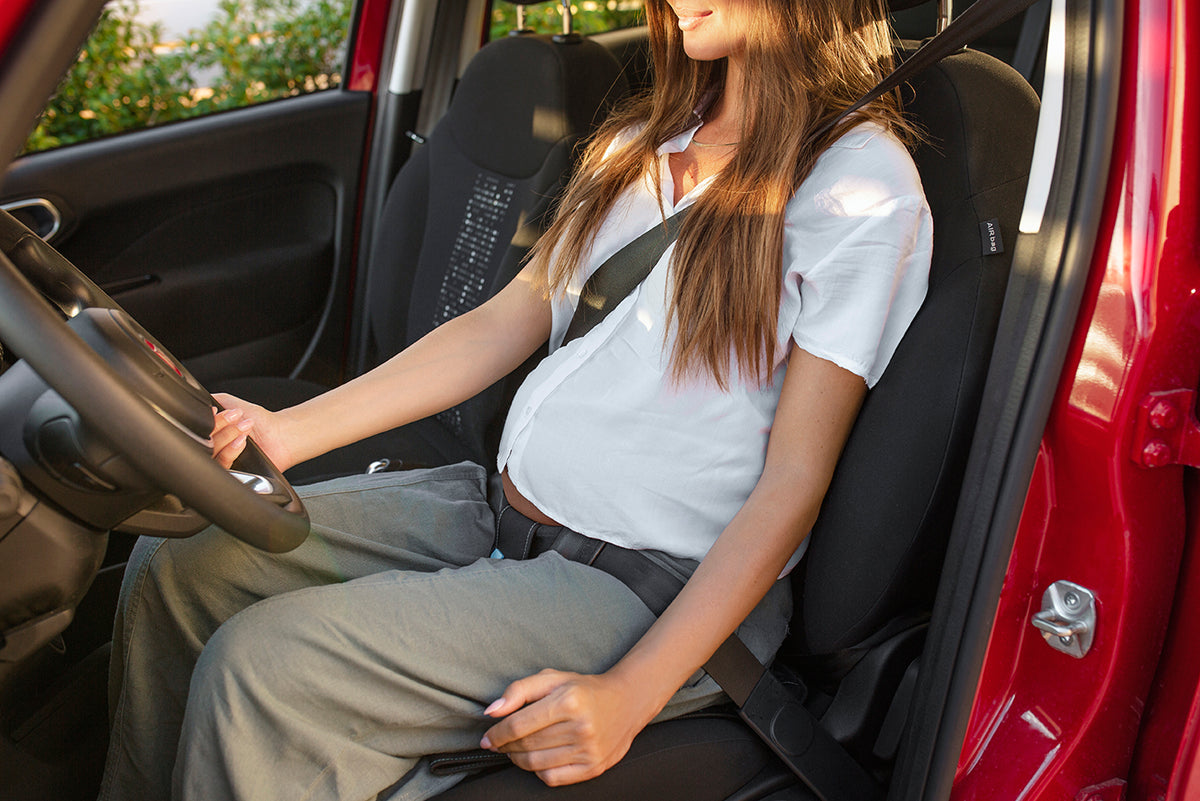 What do Koala mums and dads think about it?
Esattamente come me l'aspettavo!
Ho acquistato la cintura per viaggiare sicure in gravidanza durante la mia seconda gravidanza, ahimè! Quanto mai non l'ho acquistata anche prima! Davvero comodissima e semplicissima da installare e utilizzare! Super consigliata!
Adesso mi sento più sicura e tranquilla in tutti gli spostamenti che devo percorrere in auto.
Ciao Marta,
che piacere leggere la tua recensione sulla nostra cintura gravidanza Koala Driving Belt!
Ci fa un enorme piacere :)
A presto!
Martina
Koala Babycare
Indispensable !
S'il y a bien un achat à faire pendant la grossesse c'est celui-ci.
Installation rapide et confortable. Je la conseille à toutes les femmes enceintes !
Chère Audrey,
Merci pour votre commentaire, c'est un immense plaisir de savoir que vous êtes si satisfaite de notre produit !
Nos meilleures salutations,
Marta
Koala Babycare
Facile à installer et utiliser. Très confortable sous les fesses
Ottimo acquisto
Veramente funzionale e comoda. Geniale la doppia possibilità sia per gonna che per pantalone. La sto giusto testando ora che siamo in viaggio per il mare ed ho un vestito.
Zufrieden
Der Gurt ist super bequem und ist an den richtigen Stellen perfekt gepolstert. Außerdem schwitzt man nicht. Die Knöpfe an der mittleren Halterung bräuchten ein paar Millimeter mehr Platz, manchmal ist es schwierig dir zu zu kriegen. Außerdem sitzt der Gurt nicht viel tiefer am Bauch als vorher also bin ich nicht sicher ob es im Falle eines Unfalls einen so großen Unterschied machen würde. Das möchte ich allerdings auch nicht ausprobieren ;)
Lg
Support from our Koala Mum Community
@saralunacanola

@robertavivereunafavola

@elenaalicebolpagni

@babyonafamily

@soymonchiblog

@serefitfun

@marieyou

@isamar_florido
Frequently asked questions on this product
When can I start using Koala Driving Belt – pregnancy car seat belt adjuster?
We recommend using Koala Driving Belt from when you're two months pregnant.
Can I install Koala Driving Belt on all car seats?
Our pregnancy car seat belt is extremely versatile and designed for use on all car seats.

In fact, it can easily be installed on the front seats by using the special belt provided around the back rest or on the rear seats, by attaching the two Isofix connectors onto the Isofix system already present on the car.

See our digital user manual for more details on installation.
Has Koala Driving Belt been tested?
It has been crash-tested in accordance with regulation ECE R16, which governs car seat belt safety standards.

The crash test confirmed that the use of our product does not affect car safety belt performance in the event of an accident.
Is Koala Driving Belt approved for use?
There are currently no standard regulatory requirements of such devices, therefore, Koala Driving Belt cannot be defined as type-approved, just as no other pregnancy seat belt adapter can be defined as type-approved.

Nevertheless, in order to guarantee the highest quality and peace of mind, we've subjected our product to ECE R16 regulation testing, which is responsible for seat belt safety regulations.

The crash test confirmed that Koala Driving Belt does not affect seat belt function in any way.
Is it comfortable even when wearing a skirt?
Absolutely! It is specifically designed to be used in two different ways, adapting to your look: use the central flap when wearing trousers and the two side flaps when wearing a skirt or dress.
How can I be sure I have installed the seat belt adjuster correctly?
Before using Koala Driving Belt, it must be installed correctly onto the seat by following guidance in the instruction manual, using either the belt provided or Isofix system connectors.

After attaching it to your chosen seat, sit down and fasten the three-points on your

All you have to do is choose either "trouser" or "skirt" mode.

Koala Driving Belt allows you to place the lower part of your seat belt underneath your pregnancy bump, while the upper part passes over one shoulder and diagonally across your chest (between your breasts). This keeps the seat belt away from your bump.
Is the belt made from comfortable fabric? Is it also suitable for use in summer?
Koala Driving Belt has been designed to offer maximum comfort, thanks to the choice and thickness of fabrics used.

Specifically, the material used to make the straps where the seat belt is positioned has been chosen to avoid any rubbing or irritation, especially during the summer when there is more direct contact with your skin.
Where can I find the full instruction manual?
Koala Driving Belt instruction manual can be found on this link.