A must-have in every mum and dad's daily life
Newborn essentials cotton muslin cloths that turn into whatever you need: their small size makes them ideal as newborn bibs, baby burp cloths, reusable cloth baby wipes... Koala Soft Touch appear as if by magic, just when you need them!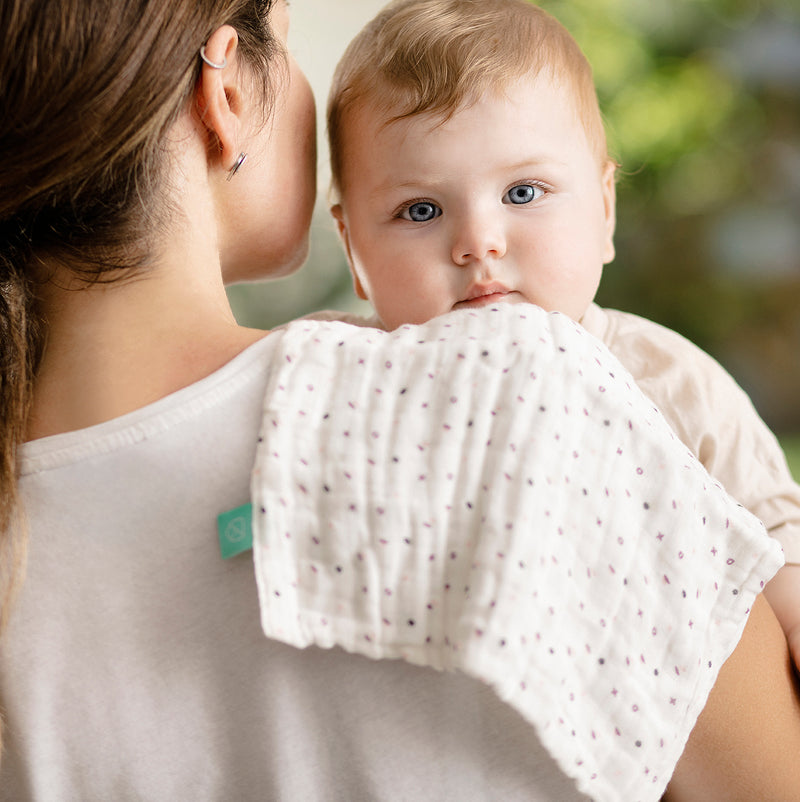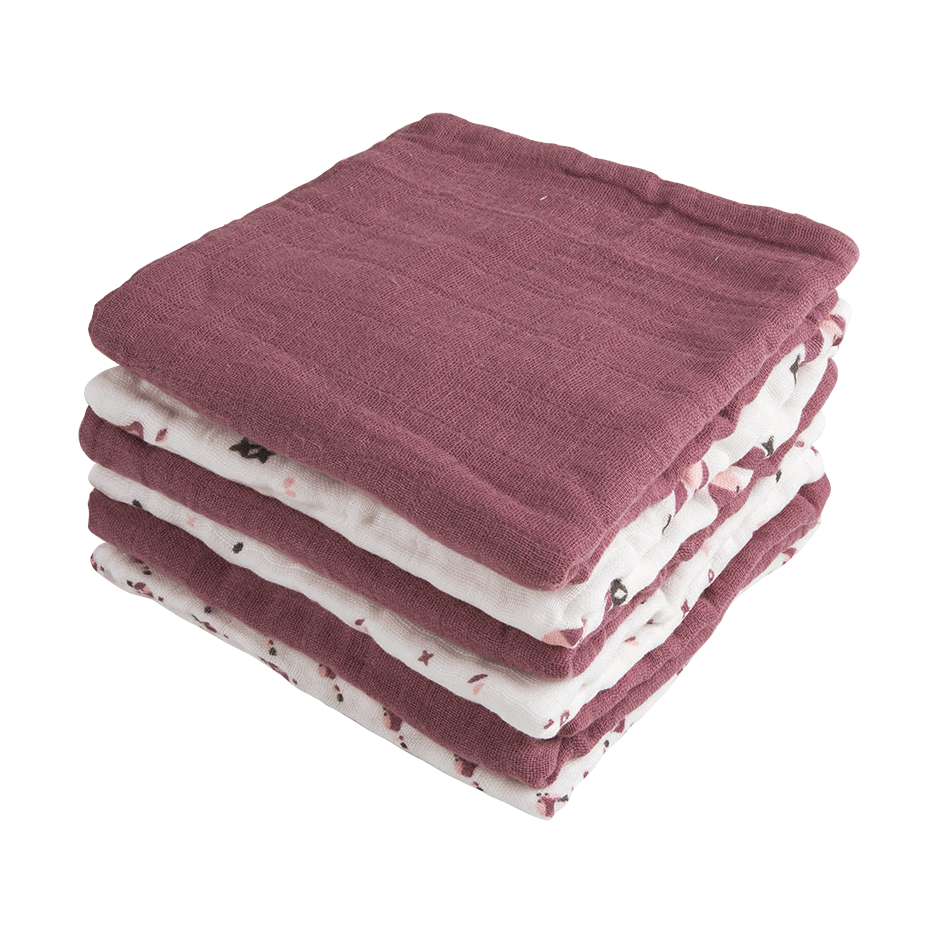 Because it's just what you need
Three features that make Koala Soft Touch 30x30 special

6 layers for maximum absorbency
As a bib, towel, or wipe, you always need super absorbency

Pure soft cotton
Made of 100% organic cotton, so gentle on the skin that your baby will hardly notice its tender touch

Retains softness wash after wash
Comfort of comforts: as soft as new even after multiple washes
All you ever need: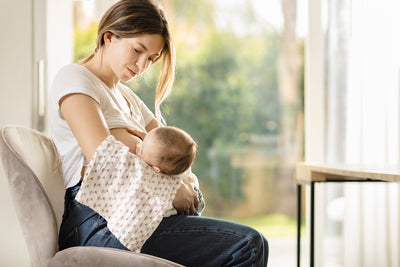 Bib
For daily use, starting with breast or bottle-feeding time
What the experts think
Certification which attests the quality of Koala Soft Touch fabric: 
• GOTS-certified organic cotton: made from natural fibres derived from organic farming 
• Skin Friendly: soft and breathable, gentle on a baby's delicate skin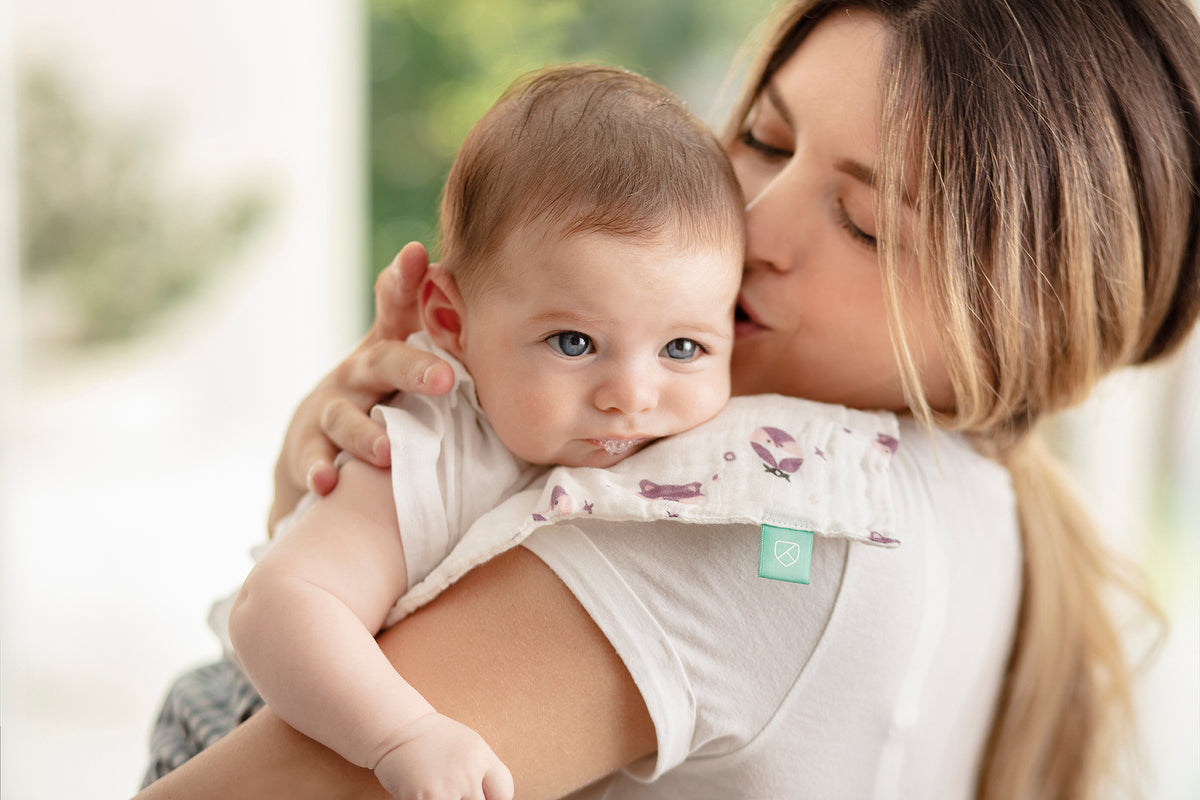 It's ideal
For a multitude of uses at home and when out and about, and thanks to its handy compact size, you can always take one with you wherever you go!
It's ideal
As an ultra-versatile and must-have baby item for life on the go
It's ideal
Because, in just one single step, it transforms into a breastfeeding cover or a snuggly blanket to wrap your baby in a soft embrace
Uses
Bib, Face and body washcloth, Burp cloth, Baby wipe for nappy time
Uses
Summer blanket, Towel, Comforter, Changing mat cover
Uses
Breastfeeding cover up, Swaddle, Summer blanket
Material
100% organic cotton
Material
100% organic cotton
Material
100% organic cotton
What do Koala mums and dads think about it?
Sono perfette le muzzole assoro uso per tutti con mio bimbo
Ciao Jardi,
grazie per la tua recensione sulle nostre mussole!
A presto :)
Martina
Koala Babycare
The best
Satisfied with the material
Hi Mary Grace Nicole,
thank you so much!
Martina
Koala Babycare
Super praktisch fürs stillen
Perfetti
Perfetti e spedizione top!
Ciao Francesca,
grazie di cuore!!
Martina
Koala Babycare
Baby Muslin Cloths Koala Soft Touch 30x30
Support from our Koala Mum Community
@gloriastrabla

@robertavivereunafavola

@elenaalicebolpagni

@babyonafamily

@soymonchiblog

@serefitfun

@marieyou

@isamar_florido
Frequently asked questions on this product
What material are they made of?
Koala Soft Touch muslin squares are made of 100% cotton with a GOTS-certified supply chain, respecting environmental and social sustainability criteria.
How do I wash Koala muslin squares?
Koala Soft Touch can be machine-washed at 60° for maximum hygiene.

We advise you to wash them before use.

The muslin cloths do not lose their softness, yet become softer wash-after-wash.
How many layers do Koala muslin squares have?
The 30x30 version is made of 6 layers to ensure maximum absorbency.

The 80x80 and 120x120 versions consists of 2 layers for that perfect balance between lightness and absorbency.
Where can I find the full instruction manual?
Koala Soft Touch instruction manual can be found on this link.