The original: slips on just like a T-shirt
Koala Cuddle Band is the simplest ergonomic baby carrier to use and adapts easily to fit everyone.

It's an adjustable, pre-tied baby wrap which allows you to carry your baby around safely in just a few simple steps. You'll be hands-free to do whatever you want!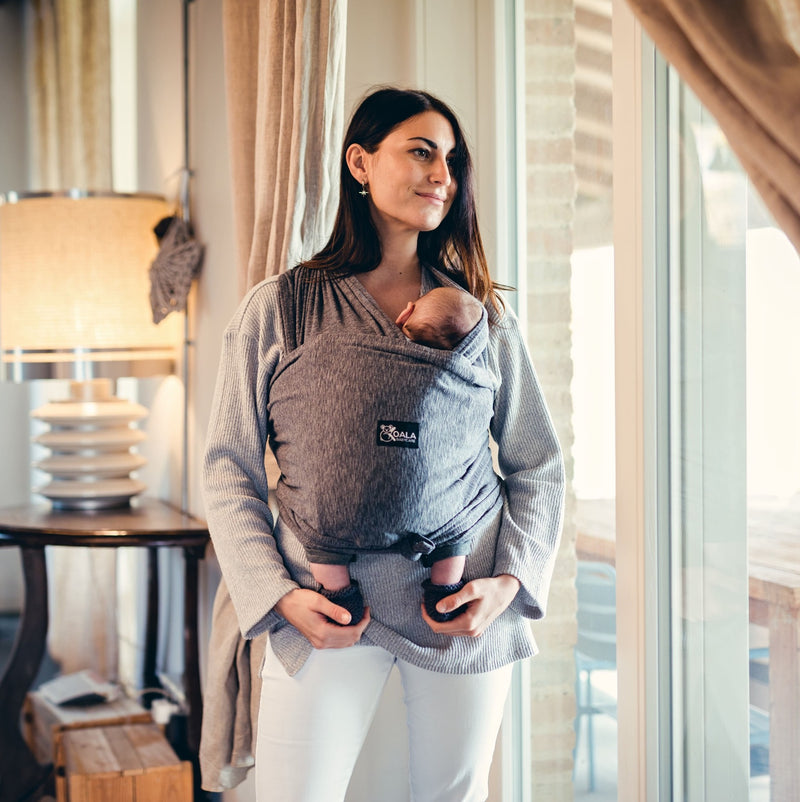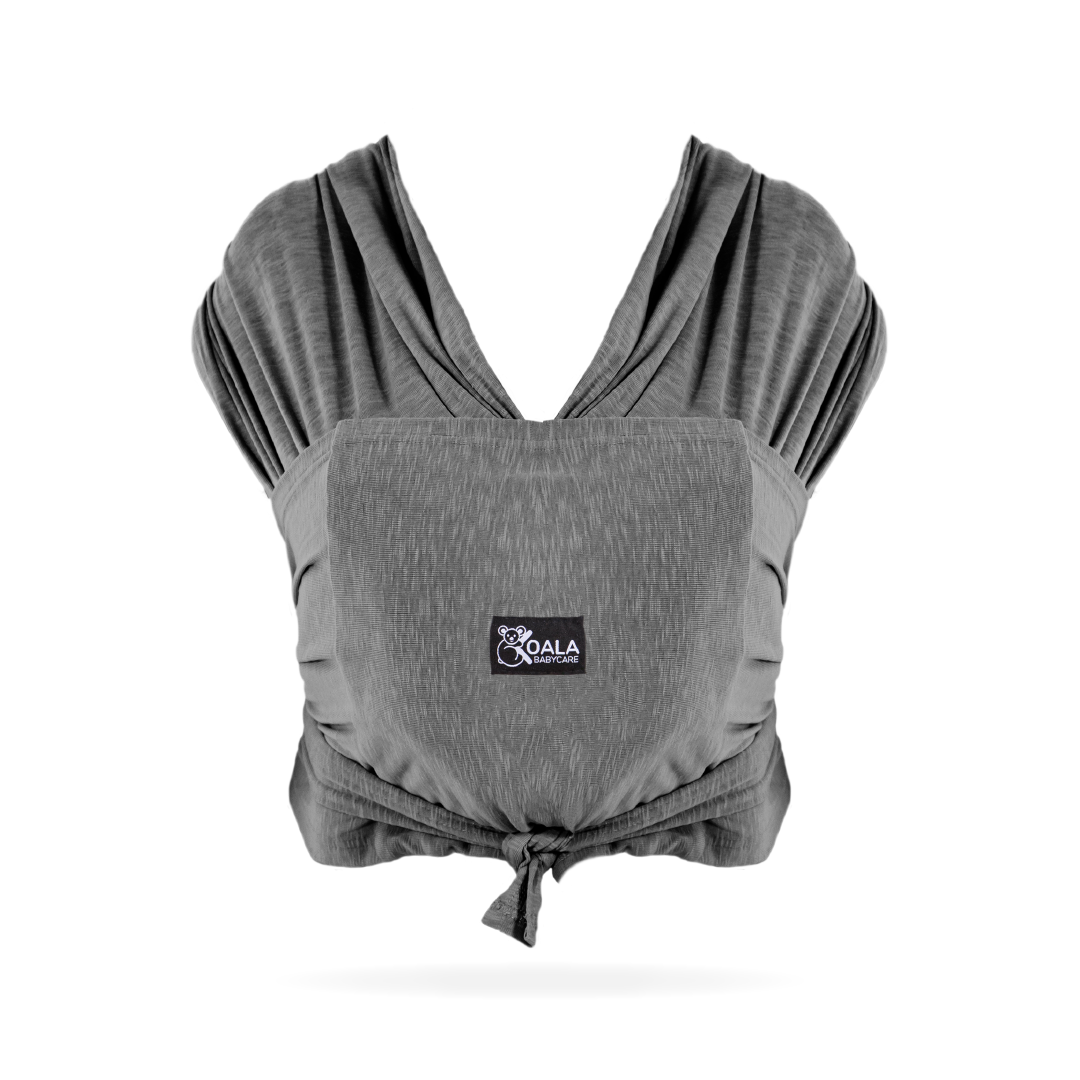 Because it's just what you need
The features which make Koala Cuddle Band the mostlovedsling for babies

Perfect for all body shapes
Adapts to fit all sizes in one simple step - adjust the rings in an instant.

Ergonomic, breathable back support
Say goodbye to back ache, with its ergonomic back support you'll hardly notice the weight of your baby.

Soft and comfortable fabric
The material retains its softness wash after wash, meaning you can enjoy the convenience of machine-washing it.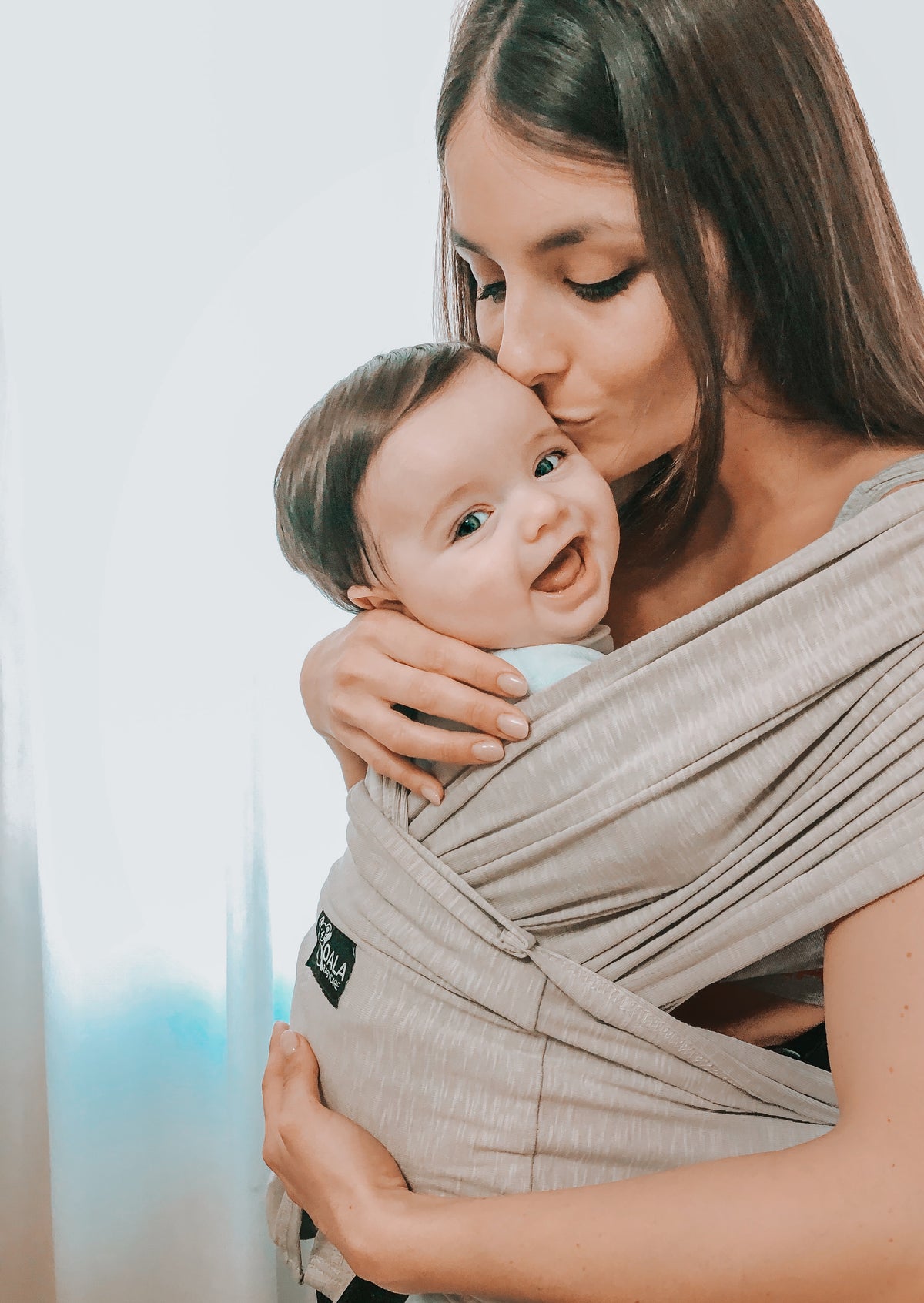 Babies love being in a baby carrier, it soothes them and they fall asleep
Why do babies in slings stop crying and fall asleep in record time? Close to mum and dad, they feel safe and secure. 
Nurturing a baby's need for physical contact is important as it will help infants grow to be independent and confident.
What those who've tested it say: ergonomics and material quality
• IHDI certification: maintains correct positioning of a baby's hips and promotes regular development 
• Oeko Tex certification: guarantees the use of toxic-free substances in textiles 
• Rated as "Very Good" from Vergleich.org
• Colour Fastness: specific tests demonstrating the absence of colour running when washed.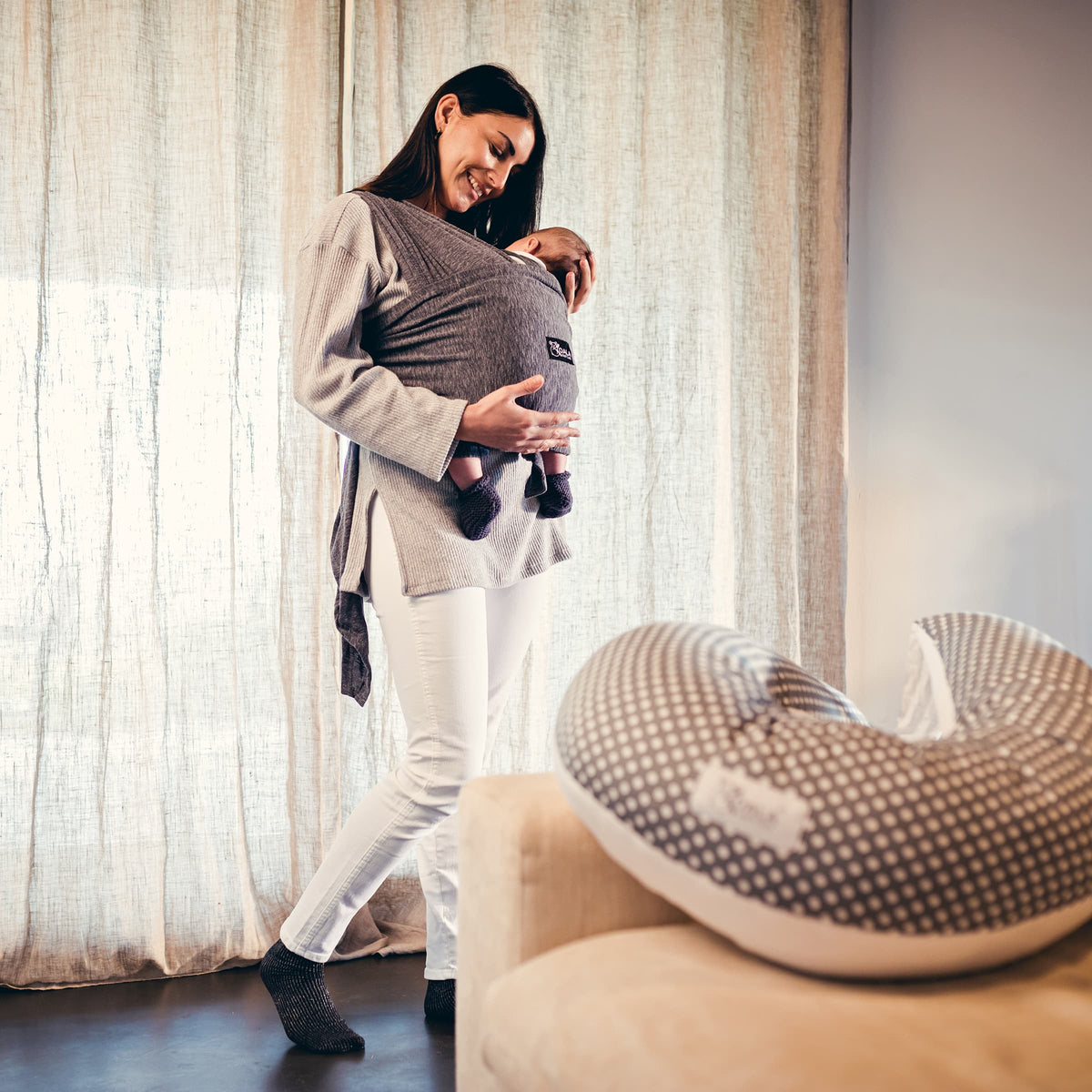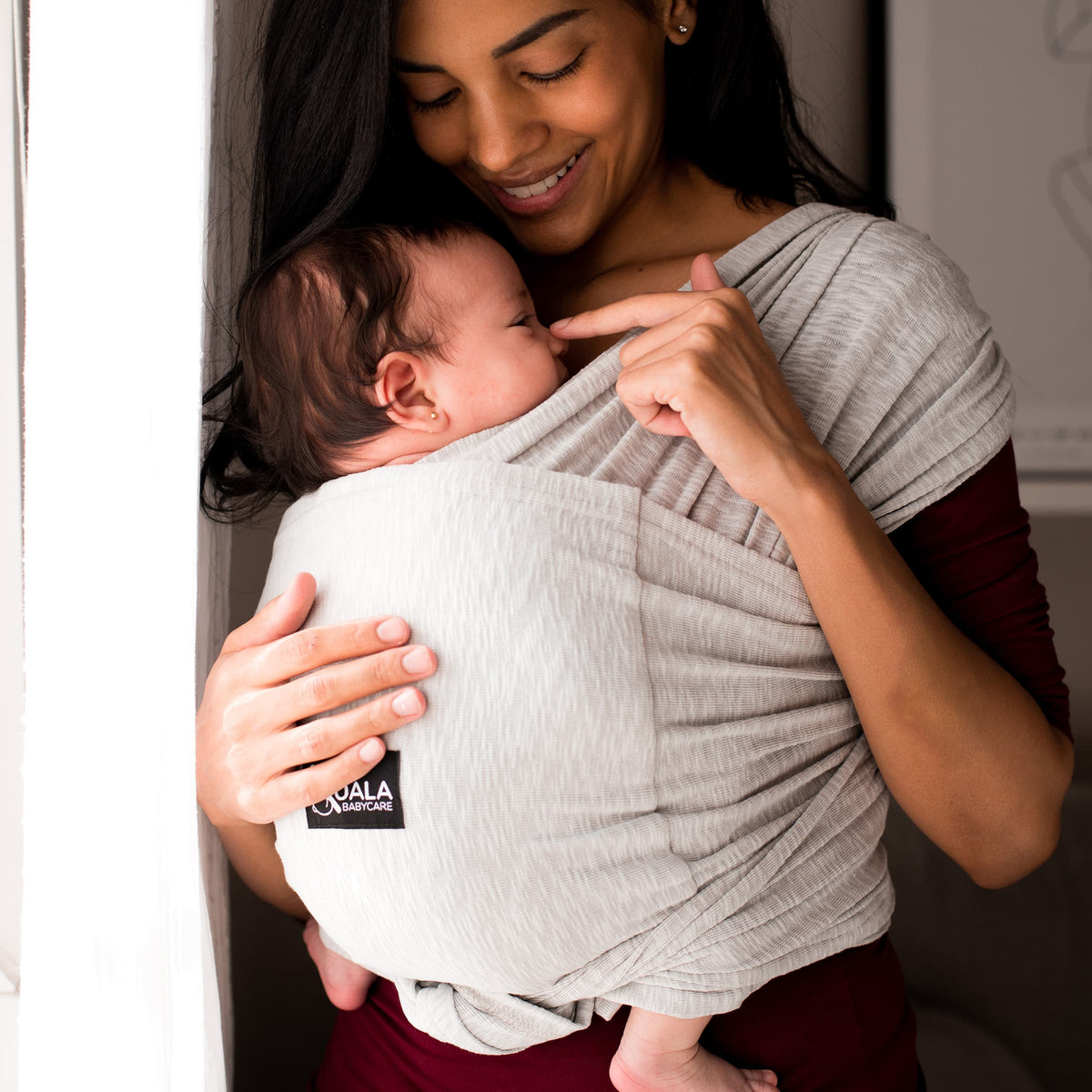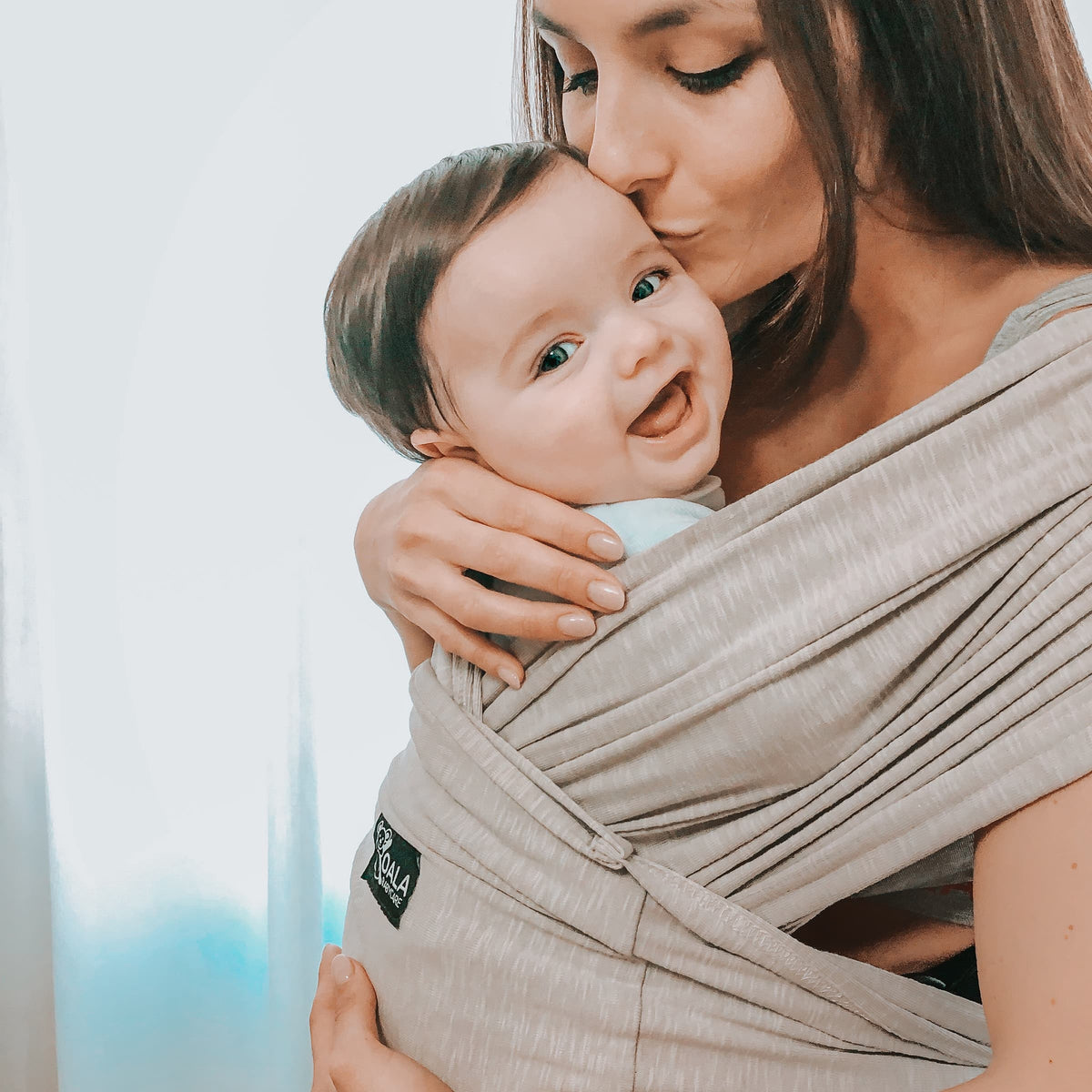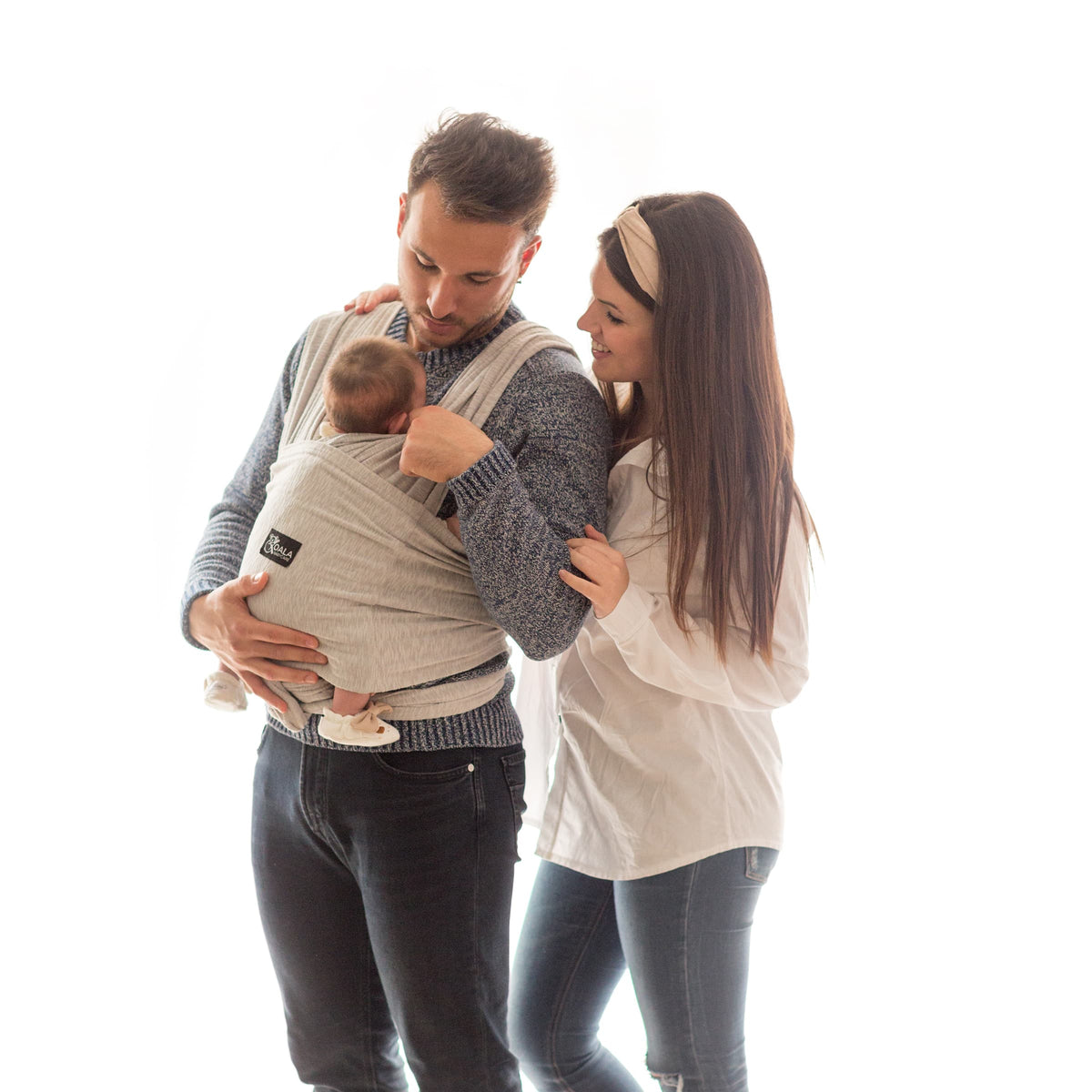 It's ideal
If you are looking for an easy-to-use baby carrier wrap
It's ideal
If you are looking for an easy-to-use baby carrier wrap with a unique design and organic, breathable material
It's ideal
If you love experimenting with new babywearing tie-methods and are looking for a wrap, made of organic material, that allows you to express your own individual style
Age
Suitable from pregnancy
Model type
Pre-tied, Adjustable
Model type
Pre-tied, Adjustable
Material
Baby Carrier Wrap: 65% Polyester - 30% Cotton - 5% Spandex Back Support: 100% Polyester
Material
Baby Carrier Wrap: 97% organic cotton - 3% elastane Back Support: 100% Polyester
Material
100% organic cotton
Certification
IHDI, GOTS, SCUOLA DEL PORTARE (Italian Babywearing Education Centre)
Certification
IHDI, GOTS, SCUOLA DEL PORTARE (Italian Babywearing Education Centre)
Max. Weight
Tested up to 9 kg
Max. Weight
Tested up to 15 kg
Max. Weight
Tested and approved up to 15 kg
What do Koala mums and dads think about it?
Excellent product
Much simpler to use than standard baby carriers, also our baby loves being in it, where in others she would fuss from the moment she was put in it. Would recommend it to everyone.
Hi Jura,
Thank you very much for your beautiful review on our Koala Cuddle Band!
It gives us so much pleasure, thank you!
Martina
Koala Babycare
Perfetto
È bellissima comodo utile e soprattutto molto bello
Ciao Alessia,
grazie, ci fa un immenso piacere leggere la tua mail!
V isto che ti sei trovata bene con il nostro prodotto, temo tu abbia sbagliato a selezionare le stelle, forse non volevi recensire Koala Cuddle Band con una stella.
A presto!
Martina
Koala Babycare
Real help
I really like it and I use it everyday for 3 months already. It changed my daily perspective, if compared to previous times with my baby 1 and my baby 2. I am glad that I have found a good and comfortable baby carrier at least for the baby 3.
I tried other types of slings and carriers with my older kids before, but I did not find them comfortable and I thought that it was simply not my thing. With this one, I can really stay for a couple of hours without much problem and do my things, while still enjoying the warmth of the baby.))
Hi Jelena,
how wonderful to read your review, you don't know what pleasure it gives us to know that our Koala Cuddle Band has turned your day around!
Thank you!
Martina
Koala Babycare
Meilleur portage !!
Très satisfaite de ce portage, simple et rapide à mettre ! Je ne peux que le recommander 😍
Chère Manon,
Merci beaucoup d'avoir partagé votre expérience, c'est un vrai plaisir de vous lire.
Une très belle journée!
Marta
Koala Babycare
Ergonomic Baby Carrier Koala Cuddle Band
Support from our Koala Mum Community
@babyonafamily

@eyesofthemoon

@ale.colonna

@ikasanchezfr

@ale_samaniego

@joyfullyeve

@healthy_couple_spain

@gracebeggy

robertavivereunafavola

marinapmconcept
Frequently asked questions on this product
Is Koala Cuddle Band suitable for use from birth?
Absolutely! Koala Cuddle Band can be used right from your baby's first few days of life.
You can choose between two different tying methods, both suitable from birth.
What is Koala Cuddle Band's maximum weight limit?
Koala Cuddle Band can carry a maximum weight of 9kg, meaning you can use it throughout the first year of your baby's life.
Can I use the baby carrier during summer months?
Babywearing in hot weather is entirely up to you. However, generally speaking there's no problem; the carrier provides comfort and will keep both you and your baby cool. 🙂

During summer we recommend:
• Wearing natural fabrics, that goes for both you and your baby, who can even wear just a nappy if it's very hot.
• Taking breaks if you're sweating a lot.
• Changing and resuming after a short break if clothing becomes wet.
• Placing one of our 30x30 Koala Soft Touch muslin cloths between your baby's face and your chest, it will help absorb any sweat and you'll both feel less hot and sticky. Always make sure that your baby's airways are clear.
Is Koala Cuddle Band rigid or stretchy?
Koala Cuddle Band is an elastic strip with a reinforced back support, recommended during the first year of your baby's life!
How to wash Koala Cuddle Band?
You can machine wash your Koala Cuddle Band at 30° with garments of a similar colour. We recommend that you do not bleach, do not iron, do not dry clean and do not tumble dry.
To wash your baby carrier wrap, it's best to remove the rings first. For guidance on putting them back on, watch this video.
It's my first carrier wrap, will I struggle to put it on?
No – not all, it's super easy. At the top of this page, you'll find a video tutorial guide with all the instructions for using your baby carrier correctly.
How to use Koala Cuddle Band?
On this link, you'll find a video tutorial containing a step-by-step guide on how to use your baby carrier.
On this link, you can find a video tutorial on how to attach the rings. It's easier than you think.
My baby does not want to go inside the sling, what can I do?
At the beginning it's only normal to encounter a few difficulties, especially if you're new to babywearing.
Most importantly of all: remember it's entirely normal, don't get discouraged!
Here's what you can do:

- Make sure you are wearing your Koala Cuddle Band correctly by following the video you can find on this link.

- Introduce your baby to their sling gradually, for short bursts of time each day. This will help them become used to babywearing. Every infant adapts to new things differently, your baby probably needs more time to get used to it.

- You can ask for help from a babywearing consultant who will guide you step-by-step.
Where can I find the full instruction manual?
Koala Cuddle Band instruction manual can be found on this link.
You may also be interested in:
Newborn pillow Koala Perfect Head
€29,75
Newborn pillow designed to distribute pressure evenly across their head. Ideal for carrycots, bouncers and prams.
Discover more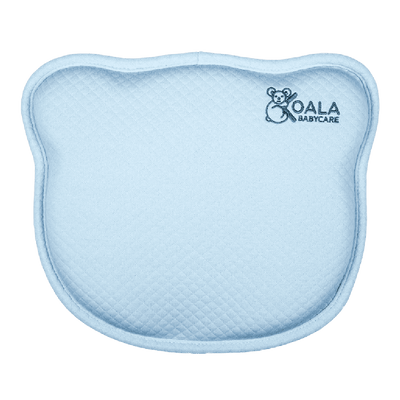 Pregnancy and breastfeeding pillow Koala Hugs Plus
€49,75
The addition of a removable pad, which provides lower back or neck support, makes Koala Hugs Plus even more multifunctional.
Discover more