A bundle full of surprises, for you and your baby
A magical pack to accompany you from pregnancy to after the birth, taking care of both mum and baby.  
Inside are two multi-functional and versatile products which evolve with your needs every step of the way, as well as our iconic Koala pillow, your best ally against Flat Head.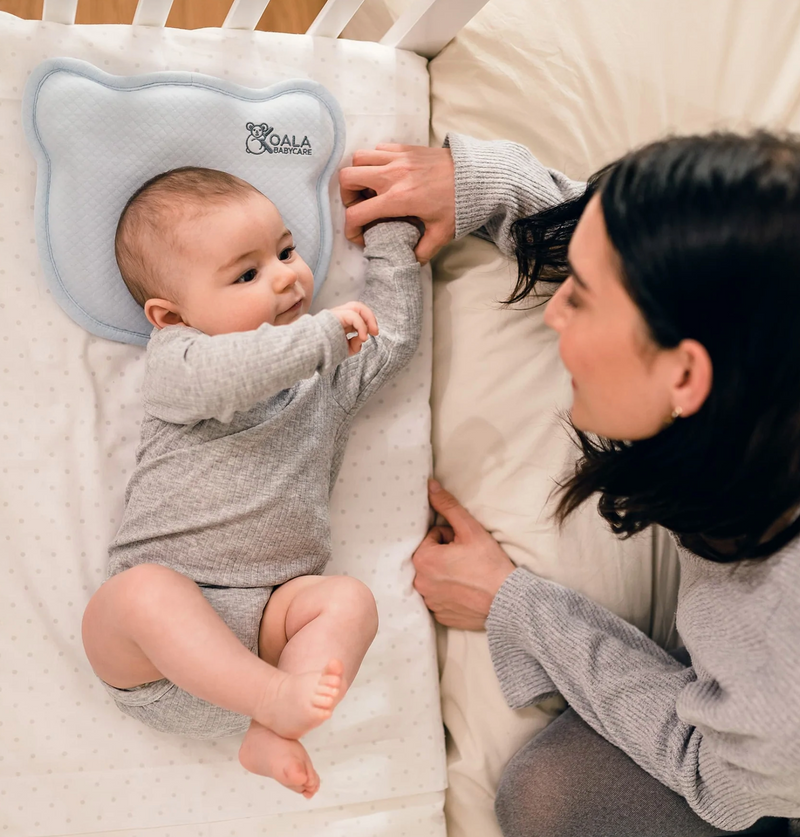 The bundle contains
Every mum performs miracles, especially with the right products
Koala Hugs Plus, your best companion in pregnancy!
You can finally go back to having a good night's sleep! It alleviates back pain, so you can tackle your day pain-free and full of energy once again.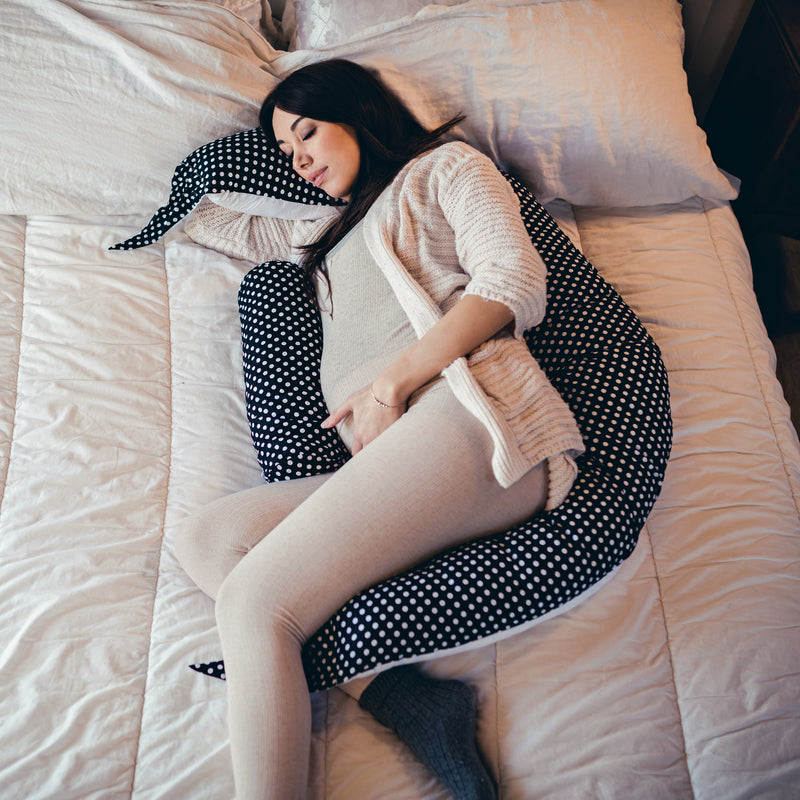 Once your baby arrives, it will become your breastfeeding pillow and more!
Post birth, it will become a great nursing pillow as well as a great support for Tummy Time and for encouraging your baby to crawl.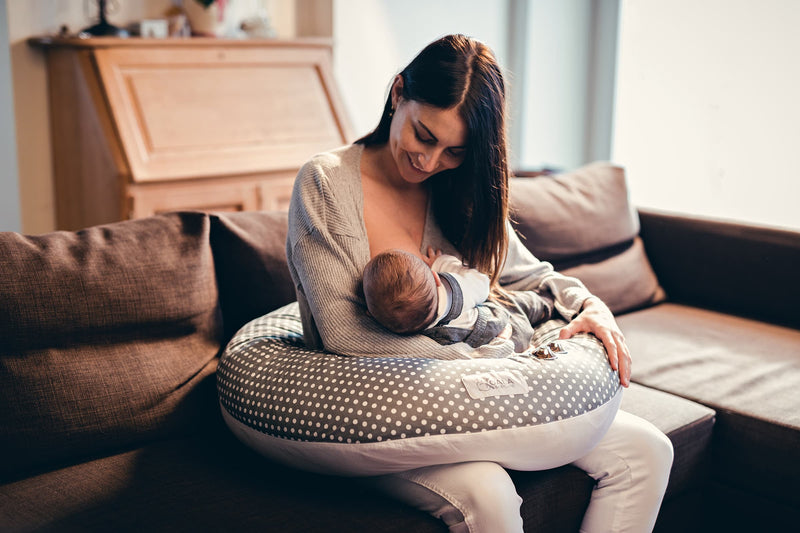 Koala Perfect Head, flat head pillow
Use it in the carrycot, crib, bouncer, the pram, and any other mobile support, to protect your baby's head from Plagiocephaly (flat head syndrome).
It's as simple as resting their tiny head on the pillow!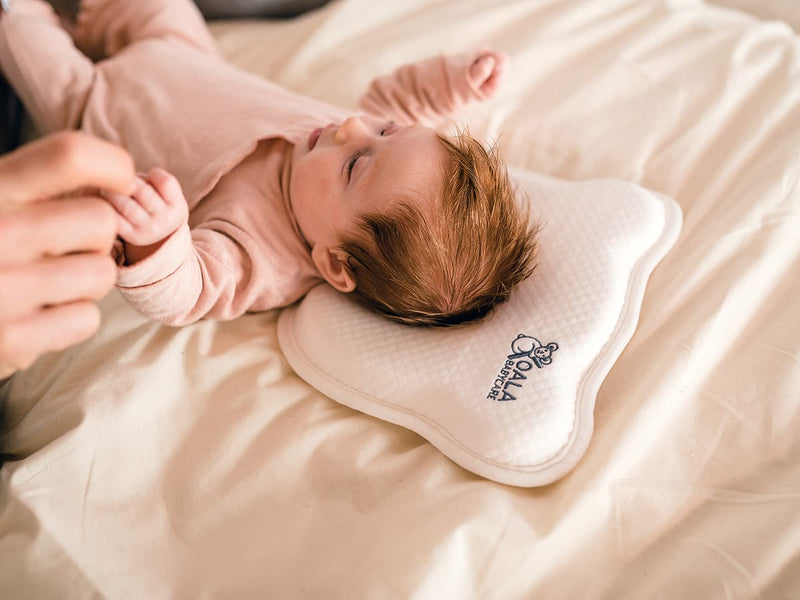 What do Koala mums and dads think about it?
La salvezza
Ho iniziato ad usarlo da circa un mese, sono quasi al 5 mese di gravidanza ed è una benedizione...niente dolori alle gambe al mattino e per la cervicale la salvezza.
Lo straconsiglio...grazie per i prodotti fenomenali che create. So che non sarà l'ultimo acquisto fatto da voi
Grazie infinite per le bellissime parole Rita!
Ci fa un immenso piacere sapere che il nostro Koala Hugs sia la tua salvezza <3
Vielseitig nutzbar
Ich habe es bereits in der SS gekauft damit geschlafen, dann kam der Kleine, habe es zwei Jahre zum Stillen benutzt und nun mit 2,5 Jahren benutzen wir das kleine Kissen immernoch! 👌🏼perfekt
Posso mettere 100
Mi ha salvato in gravidanza e anche in allattamento, soldi Benedetti!!! Grazie per averlo creato
Maravillosa
La compré en la semana 20 de embarazo y la he usado desde entonces. En las últimas semanas calma totalmente el peso de la barriga y el dolor de espalda. La usaba incluso para sentarme en el sofá. No hubiera podido dormir absolutamente nada sin ella todo el final del embarazo. Ahora la uso con mi bebé.
100% recomendable.
Un ottimo prodotto
Iniziavo ad avere dolori nella parte lombare a causa del peso della pancia e il classico cuscino in messo alle gambe non bastava più. Ho deciso di fare un tentativo con questo cuscino e devo dire che mi ci sto trovando molto bene. Riesco a riposare meglio e non mi alzo più con la spalla sinistra dolorante e bloccata. Non fa ovviamente miracoli maè un validissimo supporto. Spero di riuscire ad usarlo anche dopo la nascita come cuscino per l'allattamento per ammortizzare bene la spesa. Lo ricomprerei.
Support from our Koala Mum Community
@dalila_strama

@digitalmodernfamily

@ana.snider

@alessiameucci

@gloriastrabla

@caaronlina

@maria_mfit

@a_magicmamahood

@isamar_florido

@francescafietta
Frequently asked questions on this product
What is the difference between Koala Hugs and Koala Hugs Plus?
Both pillows have been studied and specially designed to resolve the same common problem, helping mums-to-be to sleep better during pregnancy. The Plus version of the pillow comes with an additional cushion pad, which offers neck support when sitting down or support to the baby bump or back when lying down, whichever is preferred. In any case, it's an extra cuddle 🙂.
How do you attach the extra lumbar support pillow to Koala Hugs Plus?
To attach the support pillow, simply insert Koala Hugs Plus through the loop on the lumbar support until the loop is positioned in the centre of Koala Hugs Plus. You'll see how easy it is!
How long do I have to wait for Koala Hugs to return to its original size?
Koala Hugs will return to its original size within 24 hours!
How do I wash Koala Hugs?
The pillow can be machine-washed at 60°C and dried in a tumble dryer on a delicate low temperature cycle. You can also take to a laundry cleaning specialist for advice. The pillowcase is removable and can be machine-washed at 30˚C. and tumble dried on a delicate low temperature cycle. It can also be ironed, however remember to set the iron to a low temperature.
Have Koala Perfect Head Pillows been certified?
Yes, of course, Koala Perfect Head pillows have: • Design Patent • CE Certification • Ergonomic Product Certification by the German Institute for Health and Ergonomics (IGR) • Oeko Tex Certification • The memory foam is polyurethane, without flame retardant agents added.
What can a Koala Perfect Head pillow help with?
•Distributing pressure evenly across the head, thanks to its structure and material-type • Helping babies remain on their back (without restraining them)
With young babies, and if Koala Perfect Head Maxi isn't positioned properly, isn't there a risk that it may cause a baby's neck to bend?
Positioning your baby's neck in the centre of the pillow, near the central indent, ensures maximum comfort. In this position, with their shoulders off the pillow, pressure across the skull is evenly distributed and it promotes correct posture for baby's neck, cervical area and back. The pillow has a deliberately slimmer design around the neck area to prevent baby's head from tilting forward, and blocking the airways.
Where can you use Koala Perfect Head?
Koala Perfect Head is a small and compact pillow, specifically designed for use in carrycots, cribs, bouncers and prams up to one year of age.
Where can you use Koala Perfect Head Maxi?
Koala Perfect Head Maxi is wide and slim (50 cm wide) and designed specifically for use in cots, co-sleeping cribs and wider cribs by infants, babies, and toddlers up to 3 years of age. It is also ideal for use during playtime when a baby is lying on a play mat.
What are the age ranges for using Koala Perfect Head and Koala Perfect Head Maxi?
Koala Perfect Head pillows, as long as used carefully, are designed to be used from the first few months of your baby's life. However, they are indicated for different uses. Koala Perfect Head can be used up to 12 months old in smaller baby carrying supports, while the Koala Perfect Head Maxi can be used right up until 36 months in co-sleeping cribs or cots.
Please note that in both cases, from 0 to 6 months (or until the baby can roll over independently) you should use the pillow under adult supervision.
What is Koala Perfect Head made of?
Both pillows are made of 100% high-quality BASF German Memory Foam. Two pillowcases (made from 75% cotton and 25% polyester) are provided with the pillow. Materials used are Oeko Tex certified. The pillows are free of zips, buttons and metal parts to maximise baby's safety.
Can I wash the memory foam? How many degrees should I wash the pillowcases at?
Do not wash the memory foam in water or in the washing machine. Memory foam loses its original shape when immersed in water, making it unusable. You can clean the surface with a well wrung out cotton or microfibre cloth and let it air dry flat away from sunlight. You can wash the pillowcases at 30°. However, we recommend that you do not bleach them, do not iron them, do not dry clean them and do not use stain removers or solvents.
How to maximise the effectiveness of Koala Perfect Head pillows?
The effectiveness of our baby pillows in the Koala Perfect Head range in distributing pressure evenly across the head is linked to a combination of simple, yet important, daily habits, for many of which there's a Koala Babycare product to help. The multi-functional pregnancy and breastfeeding Koala Hugs pillow offers comfortable support to an infant's little head during a feed. It can also be used under supervision for Tummy Time, which strengthens a baby's neck muscles, and from six months old it can be used as a sitting aid to keep your baby from resting their head. Koala Cuddle Band is an ergonomic baby carrier wrap which slips on easily just like a T-shirt. Using Koala Cuddle Band throughout the day or to carry your baby reduces the amount of time your baby spends lying on their backs and consequently, limits localised pressure across their skull.