The perfect gift for all new mums
Wondering what to get your friends who are about to become parents? Perfect Duo! 
It contains the two most popular Koala products of all time loved for their practicality: a baby sling carrier that slips on over your head like a T-shirt and a certified pillow to prevent Flat Head, which is very common in newborns.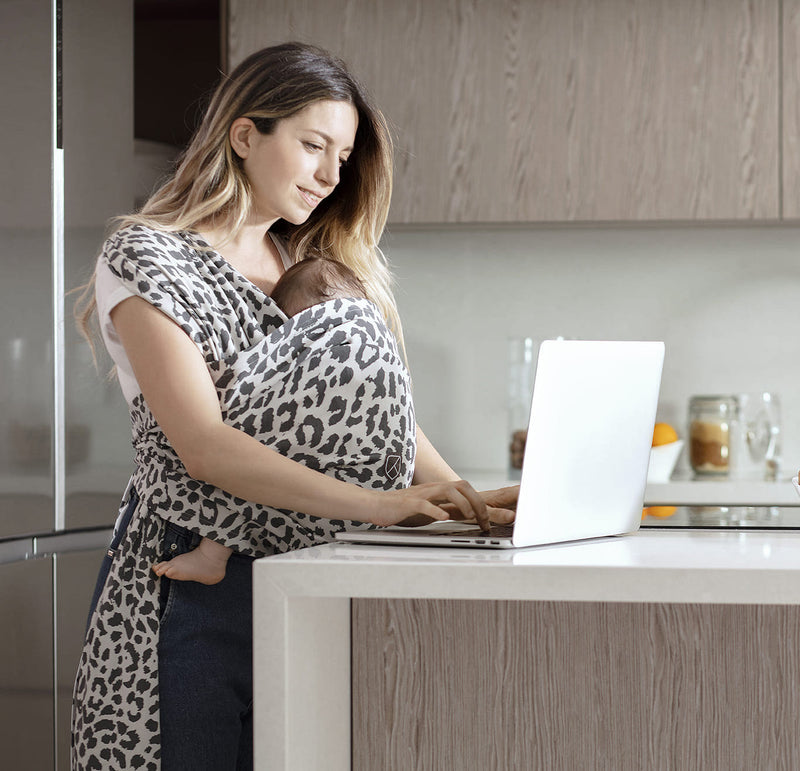 The bundle contains
Every mum performs miracles, especially with the right products
The newborn baby carrier that slips on in less than a minute
Koala Cuddle Band 2 is a pre-tied, ready-to-use baby sling carrier, which slips on just like a T-shirt.

By the time you've counted to 30 your baby will be safe and snug inside their carrier, and you'll be hands-free once again. How many things can you get done now?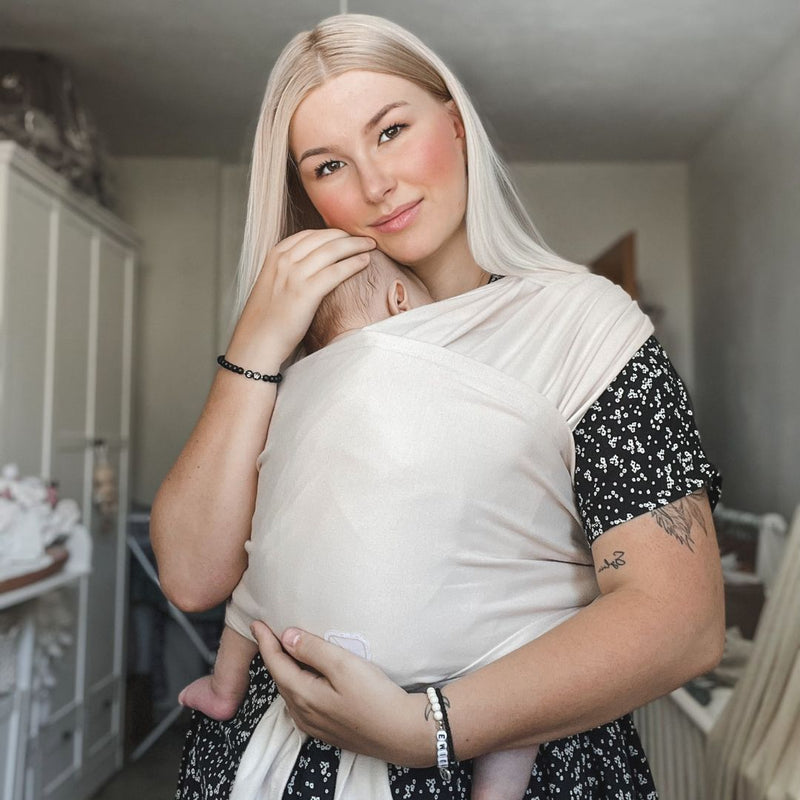 Koala Perfect Head, flat head pillow
Use it in the carrycot, crib, bouncer, the pram, and any other mobile support, to protect your baby's head from Plagiocephaly (flat head syndrome).
It's as simple as resting their tiny head on the pillow!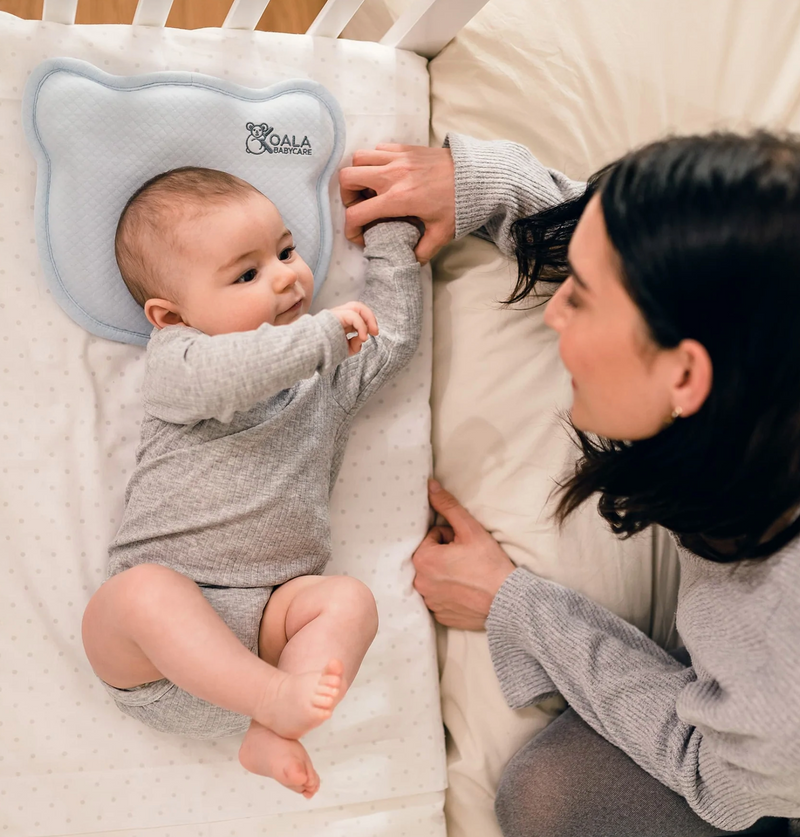 What do Koala mums and dads think about it?
Perfecto
Estoy encantada con este fular, lo usamos cada dia ya que es el mas comodo que he visto ya que viene anudado y es muy practico para ponerlo, ademas la tela es de algodon y es muy comoda
Ottimo!
Utilizzandolo giornalmente il problema di appiattimento della testaè molto molto migliorato nel giro di qualche mese.
Ottimo acquisto
Su consiglio dell'osteopata l'ho preso per mio figlio e devo dire cheè molto utile
Cumple con lo que aparece en la imagen
Me ha gustado que venga en una bolsa con cremallera robusta también me ha gustado que venga con dos fundas. Son fundas de calidad y la almohada parece ser cómoda merece la pena comprar esta almohada.
Muy bueno
La sensación del cojín es muy buena tanto la almohada como la funda que lo recubre. 100% recomendable
Support from our Koala Mum Community
@babyonafamily

@eyesofthemoon

@ale.colonna

@ikasanchezfr

@ale_samaniego

@joyfullyeve

@healthy_couple_spain

@gracebeggy

robertavivereunafavola

marinapmconcept
Frequently asked questions on this product
Is Koala Cuddle Band 2 suitable for use from birth?
Absolutely! Koala Cuddle Band 2 can be used right from your baby's first few days of life.
You can choose between two different tying methods, both suitable from birth.
What is Koala Cuddle Band 2's maximum weight limit?
Tested and approved up to a maximum of 15 kg.
Can I use the baby carrier wrap during summer months?
Koala Cuddle Band 2 is made of 97% Organic Cotton - 3% Elastane.
Its soft and breathable organic cotton respects a baby's young skin and ensures maximum breathability so you can even use your baby sling in summer.

Here are some handy tips for babywearing during summer - we recommend:
• Wearing natural fabrics, that goes for both you and your baby, who can even wear just a nappy if it's very hot.
• Taking breaks if you're sweating a lot.
• Changing and resuming after a short break if clothing becomes wet.
• Placing one of our 30x30 Koala Soft Touch muslin cloths between your baby's face and your chest, it will help absorb any sweat and you'll both feel less hot and sticky. Always make sure that your baby's airways are clear.
Is Koala Cuddle Band 2 a structured or stretchy baby sling?
Koala Cuddle Band 2 is a semi-structured, pre-tied stretchy carrier wrap, which arrives at your home already made-up and ready-for-use, for your utmost convenience. You won't even need to untie it to remove it, just slip it on and off over your head each time - just like you would with a T-shirt.
How to wash Koala Cuddle Band 2?
You can machine wash your Koala Cuddle Band 2 at 30° with garments of a similar colour. We recommend that you do not bleach, do not iron, do not dry clean and do not tumble dry.
To wash your baby carrier wrap, it's best to remove the rings first. For guidance on putting them back on, watch this video.
It's my first carrier wrap, will I struggle to put it on?
Koala Cuddle Band 2 is a semi-structured baby carrier wrap, which is ready to use in just a few simple steps. This makes it also ideal for those parents who are trying babywearing for the first time and are a little apprehensive. You may encounter some difficulties at first, but don't be discouraged, you'll soon get the hang of it!

Here's what you can do:
• Ensure you are using Koala Cuddle Band 2 correctly by following the instructions in the user-manual here on this link .
• Introduce babywearing gradually to your little one by using the sling for short periods of time each day. This will give your infant time to get used to it slowly.
How to use Koala Cuddle Band 2?
On this link, you'll find a video tutorial containing a step-by-step guide on how to use your baby carrier wrap.
On this link, you can find a video tutorial on how to attach the rings. It's easier than you think.
My baby does not want to go inside the sling, what can I do?
At the beginning it's only normal to encounter a few difficulties, especially if you're new to babywearing.
Most importantly of all: remember it's entirely normal, don't get discouraged!
Here's what you can do:

- Make sure you are wearing your Koala Cuddle Band correctly by following the video you can find on this link.

- Introduce your baby to their sling gradually, for short bursts of time each day. This will help them become used to babywearing. Every infant adapts to new things differently, your baby probably needs more time to get used to it.

- You can ask for help from a babywearing consultant who will guide you step-by-step.
Where can I find the full instruction manual?
Koala Cuddle Band 2 instruction manual can be found on this link.
Have Koala Perfect Head Pillows been certified?
Yes, of course, Koala Perfect Head pillows have: • Design Patent • CE Certification • Ergonomic Product Certification by the German Institute for Health and Ergonomics (IGR) • Oeko Tex Certification • The memory foam is polyurethane, without flame retardant agents added.
What can a Koala Perfect Head pillow help with?
•Distributing pressure evenly across the head, thanks to its structure and material-type • Helping babies remain on their back (without restraining them)
With young babies, and if Koala Perfect Head Maxi isn't positioned properly, isn't there a risk that it may cause a baby's neck to bend?
Positioning your baby's neck in the centre of the pillow, near the central indent, ensures maximum comfort. In this position, with their shoulders off the pillow, pressure across the skull is evenly distributed and it promotes correct posture for baby's neck, cervical area and back. The pillow has a deliberately slimmer design around the neck area to prevent baby's head from tilting forward, and blocking the airways.
Where can you use Koala Perfect Head?
Koala Perfect Head is a small and compact pillow, specifically designed for use in carrycots, cribs, bouncers and prams up to one year of age.
Where can you use Koala Perfect Head Maxi?
Koala Perfect Head Maxi is wide and slim (50 cm wide) and designed specifically for use in cots, co-sleeping cribs and wider cribs by infants, babies, and toddlers up to 3 years of age. It is also ideal for use during playtime when a baby is lying on a play mat.
What are the age ranges for using Koala Perfect Head and Koala Perfect Head Maxi?
Koala Perfect Head pillows, as long as used carefully, are designed to be used from the first few months of your baby's life. However, they are indicated for different uses. Koala Perfect Head can be used up to 12 months old in smaller baby carrying supports, while the Koala Perfect Head Maxi can be used right up until 36 months in co-sleeping cribs or cots.
Please note that in both cases, from 0 to 6 months (or until the baby can roll over independently) you should use the pillow under adult supervision.
What is Koala Perfect Head made of?
Both pillows are made of 100% high-quality BASF German Memory Foam. Two pillowcases (made from 75% cotton and 25% polyester) are provided with the pillow. Materials used are Oeko Tex certified. The pillows are free of zips, buttons and metal parts to maximise baby's safety.
Can I wash the memory foam? How many degrees should I wash the pillowcases at?
Do not wash the memory foam in water or in the washing machine. Memory foam loses its original shape when immersed in water, making it unusable. You can clean the surface with a well wrung out cotton or microfibre cloth and let it air dry flat away from sunlight. You can wash the pillowcases at 30°. However, we recommend that you do not bleach them, do not iron them, do not dry clean them and do not use stain removers or solvents.
How to maximise the effectiveness of Koala Perfect Head pillows?
The effectiveness of our baby pillows in the Koala Perfect Head range in distributing pressure evenly across the head is linked to a combination of simple, yet important, daily habits, for many of which there's a Koala Babycare product to help. The multi-functional pregnancy and breastfeeding Koala Hugs pillow offers comfortable support to an infant's little head during a feed. It can also be used under supervision for Tummy Time, which strengthens a baby's neck muscles, and from six months old it can be used as a sitting aid to keep your baby from resting their head. Koala Cuddle Band is an ergonomic baby carrier wrap which slips on easily just like a T-shirt. Using Koala Cuddle Band throughout the day or to carry your baby reduces the amount of time your baby spends lying on their backs and consequently, limits localised pressure across their skull.
You may also be interested in:
Newborn pillow Koala Perfect Head
€29,75
Newborn pillow designed to distribute pressure evenly across their head. Ideal for carrycots, bouncers and prams.
Discover more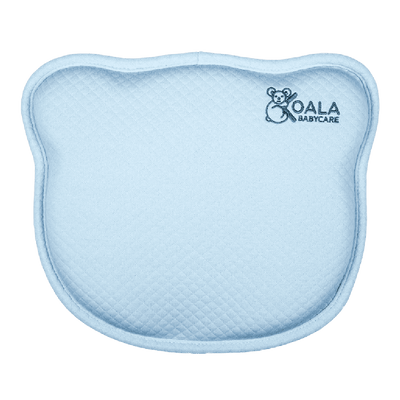 Pregnancy and breastfeeding pillow Koala Hugs Plus
€49,75
The addition of a removable pad, which provides lower back or neck support, makes Koala Hugs Plus even more multifunctional.
Discover more