For the comfort of both mum and baby when breastfeeding
Breastfeeding is by no means easy, especially at the beginning.
This bundle is designed to make this unique experience much more comfortable for everyone, helping to keep nipple and postural pain at bay.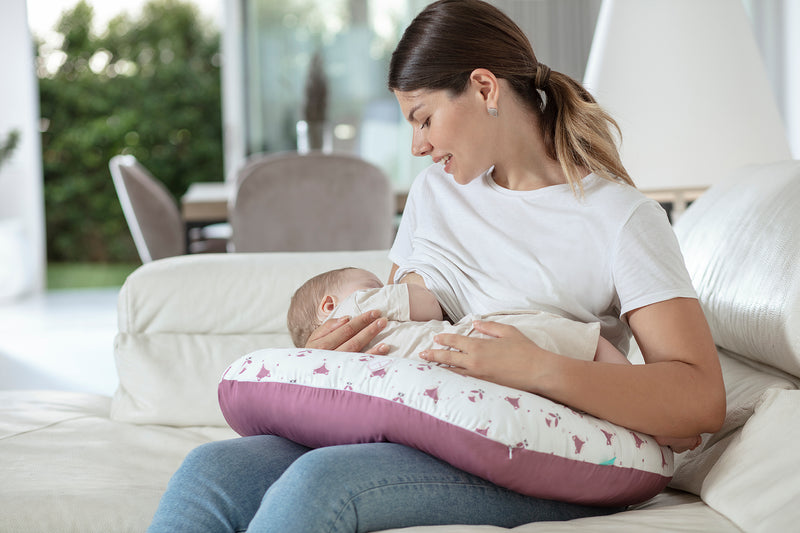 The bundle contains
Every mum performs miracles, especially with the right products.
Koala Hug Baby, the nursing pillow with 5 different uses!
Reduces muscle tension in mum's (or dad's) arms and shoulders during feeds, while ensuring your baby feels comfortable and is well supported.  
Evolves with your baby's development, assisting with post-feeding relaxation, tummy time and their first attempts at sitting up alone.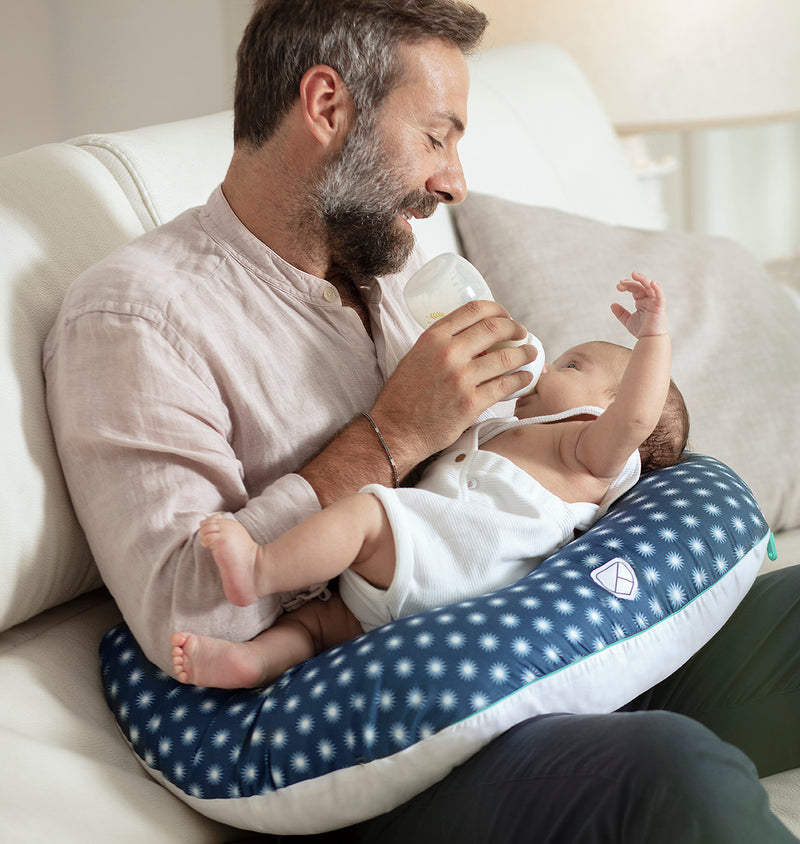 Koala Silver Cups, the nipple shields against pain
The extraordinary healing properties of Koala Silver Cups will keep sore cracked nipples at bay.  
Just slip them on, that's all! Invisible underneath clothing, they are that comfortable to wear you'll even forget you have them on.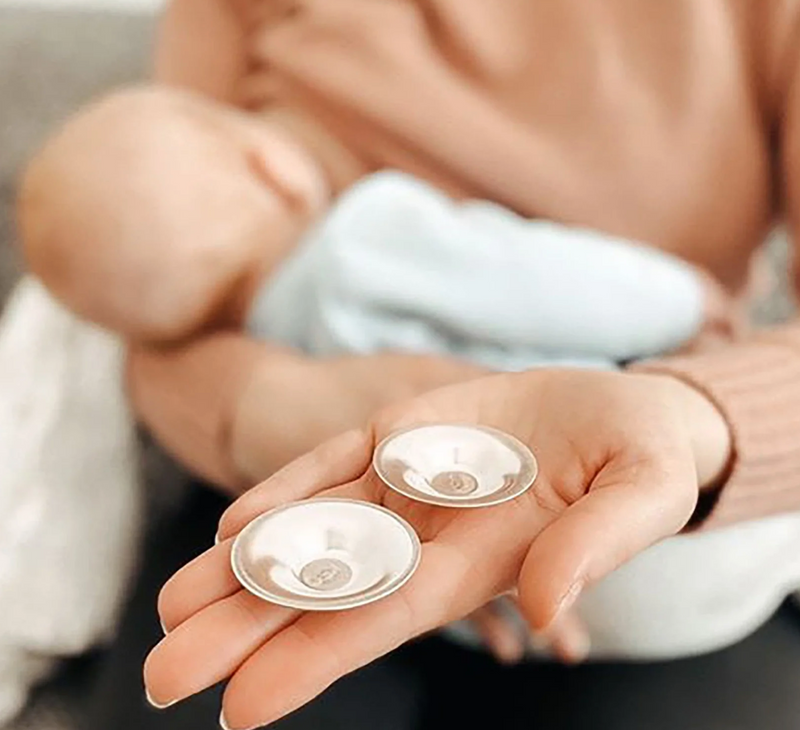 What do Koala mums and dads think about it?
Hilfreich, vor allem am Anfang der Stillzeit
Sehr Hilfreiches Kissen zur Unterstützung beim Stillen auch um es für unterwegs zu nutzen.
Hilfreiche, sinnvolle Anschaffung.
Die Silberhüttchen sind eine sinnvolle Anschaffung und haben auch mir in meinest Stillzeit geholfen wenn ich merkte das die Brustwarzen zu schmerzen beginnen, aus welchen Gründen auch immer. Leichte Risse oder einfach nur Überreizung, vor allem am Anfang der Stillzeit haben sie gut unterstützt.
Sehr hilfreich!
als Hebamme habe ich die Silberhütchen in der Wochenbettpflege testen dürfen. Direkt nach der Geburt, kontinuierlich angewendet, bewirken sie einen schmerzfreien Start in die Stillzeit. Auch bei akuten Beschwerden haben sie sehr geholfen. Großes Lob!
Viele Grüße
Utile
Davvero molto utile e poco ingombrante
Comodo
Ricevuto come regalo, soddisfatta!
Support from our Koala Mum Community
@soymonchiblog

@purpurdaria

@nolollamessuerte

@recienviajados

@ariannaloreti

@giorgiaceci

@valeriaansuini

@mylovelytiny

@robertavivereunafavola

@elenaalicebolpagni
Frequently asked questions on this product
What are the benefits of using Koala Hug Baby for breastfeeding?
There are many benefits of using a nursing pillow: it helps mum maintain correct posture, it helps position baby correctly, it prevents plagiocephaly (flat head syndrome).

To learn more about the benefits visit this link, where you'll find the complete manual.
Which positions can I breastfeed in with Koala Hug Baby?
There are several positions to choose from to breastfeed your baby.

It's important to choose a quiet private place for feeding time, to sit in a comfortable position which doesn't restrict your movements and to be able to change position without straining your back or arms with your baby's weight.

You can find further guidance on the various positions you can use on this link.
Can I use Koala Hug Baby for bottle-feeding?
Of course! It's also ideal for bottle-feeding. By positioning your baby towards you or dad with their head resting on the higher edge, it'll help prevent post-feed reflux.

In addition, the pillow reduces tension in your shoulders and arms.
What recommendations should I follow to ensure I use Koala Hug Baby pillow correctly?
It's important not to use the pillow when your baby is sleeping, and also to ensure your baby's airways are always clear.

When using it for relaxation, avoid resting your baby snuggled in the middle of the pillow or resting too high on the pillow to ensure they can breathe properly and freely.

The pillow is not designed for use in cribs or beds.
How can I tell if my baby is latched on to my breast correctly?
Your arms and shoulders should be relaxed and ready to bring your baby close to your breast.

When your baby is latched on properly you shouldn't feel any pain or discomfort.

Once your baby is in position, bring them closer to your breast, making sure that their mouth is in front of your nipple.

Your baby should suck with their mouth wide open, taking in most of your areola and nipple.

You can find more useful information on how to enjoy a pleasant breastfeeding experience on this link.
Can I use Koala Hug Baby for nursing my baby to sleep?
Koala Hug Baby is only designed for use under adult supervision and for while your baby is awake.
How long do I have to wait for Koala Hug Baby to reshape to its original size before use?
Koala Hug Baby is delivered inside a vacuum pack for two main reasons: to ensure maximum hygiene during delivery and to minimise volume, thus, reduce impact on the environment.

Once the vacuum pack is opened, the pillow returns to its original size within approximately 24 hours.
It can be machine-washed at 30°. You can also tumble dry it on a low temperature cycle.
What's the difference between Koala Hug Baby and Koala Hugs and Hugs Plus?
Koala Hug Baby is a multi-functional pillow, its main use is as a support for feeding (both breastfeeding and bottle-feeding).

Hug Baby is a 5-in-1 pillow, in addition to use as a nursing pillow, it is designed to accompany your baby's development up to 12 months old: for relaxation, tummy time and learning to sit up alone.

Koala Hugs and Hugs Plus pillows have been designed primarily for use during pregnancy to support your bump and relieve back pain.

They are ultra-versatile as they can also be used during your baby's first few months of life as a nursing pillow, a tummy time support and for learning to crawl.
When should I start using Koala Silver Cups?
We recommend using Koala Silver Cups from the week before the birth in preparation for those first feeds!
If I wear them under my top will anyone notice?
Absolutely not! Koala Silver Cups are extremely discreet and very subtle and are made to fit the shape of your breasts. You'll see that no one will ever notice them!
How do I wash Koala Silver Cups?
We recommend washing Koala Silver Cups in bicarbonate of soda, don't use bleach or other similar products as they can cause the silver to blacken!